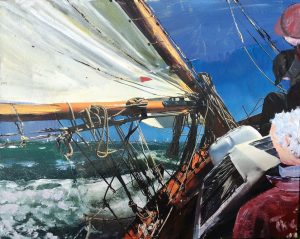 PHOTO-PEINTURE: Thalia rushing to St Catherine's Lighthouse
Eleven hours in a boat race is a trial but when its on the oldest craft in the fleet with gunnels continually running the water, a pretty strong blow and a lumpy sea then its an adventure. For Thalia built as a gentleman's cruiser in 1888 will have seen such seas before as crew will have white knuckled to haul the un-winched sheets at the wetted sharp end as we did to trim the acres of cream canvass. And what fun to understand the heavy and purposeful slosh through the water as six tons of long keel kept us from bobbing out of the short sea and indefatigable tide of the wrong type.
I slipped to the collection of string bundled to the mast for five minutes to capture the huddle of crew and eminent helm stuck aft: partly in balance, partly in self-protection mode for their solace in chilling airs and salt water rinses- as we ploughed on a nice reach down towards St Catherine's – only I had to retire the sketchpad down below in seconds as it took on a soggy state.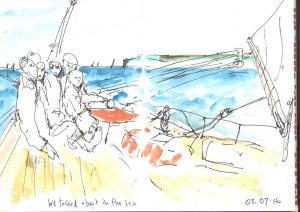 resting quietly in the haven belied the previous few hours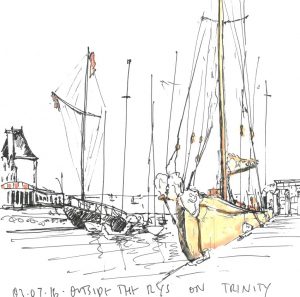 but I was reminded of the running seas about the decks for about two days more – as I salvaged my feet into their comfortable shore shoes from translucent white and wrinkled too with blue and purple patches as mould would be to a cheese.
Thank you David – it was to be remembered.