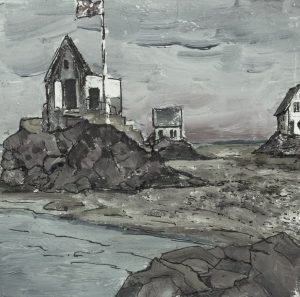 Huts dotted on outcrops at Ecrehou
When eighteen friends and family who have known each other for about 35 years are thrust together to celebrate a sixtieth birthday there's quite a buzz. When it takes place in referendum week on the waters of the Channel between the UK and the Continent (I think we used to call it), this physical fault-line coupled with our hosts choice of activity added to the befuddling of minds amongst us. For in 48 hours we managed to leave mainland UK through Southampton water, arrive in continental Cherbourg three hours later, to be set aboard a sailing vessel to back to the UK owned Ecrehou islands and only then we journeyed back to stay in France but not before we had turned back at least once – we are told because of the tides – but in reality all was a metaphor for vacillation between 'in or out' played out by our scheming hosts – but for all that we lapped it up joyously.
The strong trip on the schooner Neire Maove built to easily absorb the force six blow with all eighteen of us on board and we quickly had the experience of what it must be like to cross racing waters huddled and wetted below four taught tan sails with loose foots and lots of rope to make European soils. Yes we required the experience.
And so it was that midway between proper english and continental soils we picnicked with pan-european ingredients of terrines and salads, of jersey royals and carottes râpées, of radishes and radicchio, of mustards and ketchups, of flans and fruits and ginger nuts from lidl – all so we could inwardly feel and digest the dilemma which we could see before our eyes – to the left and south it would be 'in' and to the right and north it would be 'out' – and all within our very own stomachs awash with une goutte de vin rosé to lubricate the machinations.
Quite an experience and very liberating said one of the company clearly with a mind made up. Better 'out than in' said another: but perhaps referring to the queasiness of the sail rather than any voting preference. Yes the experience was an absolute requirement for next Thursday.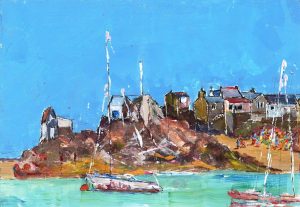 Picnic at prominent fault lines in the sea.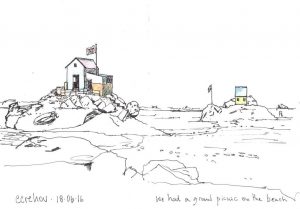 Little pimples of UK with flags policing the channel
The huts wouldn't  mind as all they have to do is to contend with the elements and currents throwing up new sculptures of pebbles and sand in the extraordinary tidal range of some fourteen meters in these parts so at times their foundations were 'in' the choppy waters and at times they were 'out' : and good luck to the trusting owners on their future. The huts really won't mind.
So back some hours later on the long washed beach of France below our mini-mansion where the party was swinging from the chandeliers and raiding all known cellars – we were able to consider the week ahead and in our sensitised state hoped that perhaps as a point in our history it will matter less than we now anticipate – and once we had walked a little, talked a bit more and it was time to return from whence we came – to England where our hearts lie.
The ever changing view from our sea front house was most memorable as Jersey came 'in and out' of focus; but it was our hosts who were most sporting in their ability to handle and entertain the assembly with great energy for which huge thanks expound and everyone looks forward to seeing if they vote us 'in or out' of their post referendum lives. We are ready to do it again but sooner than 35 years is a prerequisite.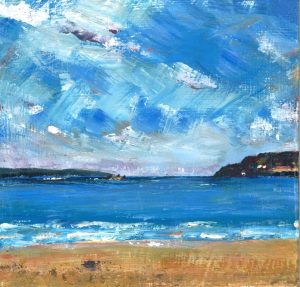 The Ecrehou glint between Barneville Plage and Jersey