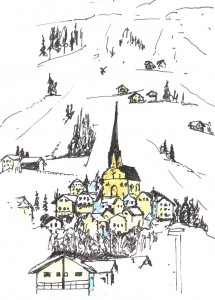 Walking, and for that matter sketching, in March in the Dolomites, that rather undiscovered part of upland northern Italy, is made somewhat more challenging by lying snow and a chill in the air that befuddles the daily preparation of the contents of ones rucksack in terms of types of clothing and supplies especially as too much weight spoils the occasion, but too few layers can mean an early exit as the evening shadows close across the rugged outcrops. But with the crystal blue sky full of sunshine bouncing off the whiteness, the snow-laden trees and pink rock faces it made for a place of astonishingly beauty: and about 1.5 litres of water, a spare vest, neckwear, a blood orange and a pair of poles was all we needed in the event.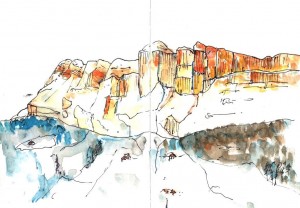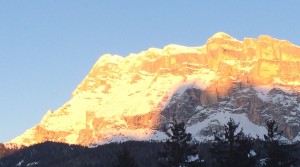 We didn't need the much vaunted snowshoes as the snow was firm or the paths already made and so with stout mountain boots we tramped the hill – way marked to the hilt with the aid of a good map to find by way of example the sweetest of churches or a small family run refugio as a lunch stop.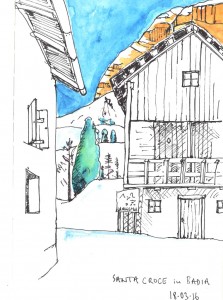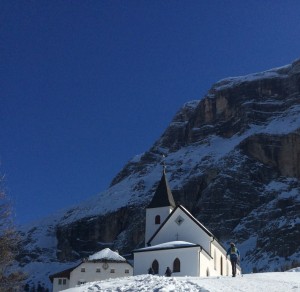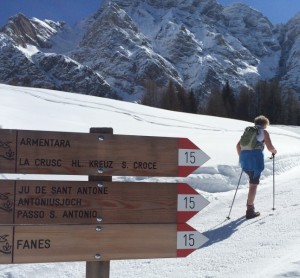 so we huffed and puffed around the quietest of places away from the valley and below the somewhat menacing craggy outcrops with radon clean edges against the cobalt. Often we were told over the summer meadows waiting to emerge from the melt and for the huts to be opened in flower filled swords as places for the shepherds and some tourist activity no doubt.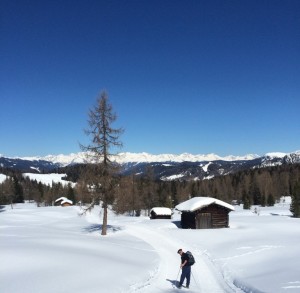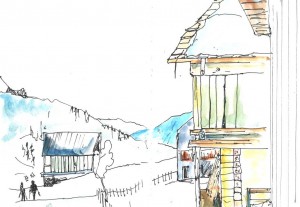 we moved through the hamlets where we found the odd local pushing a wheelbarrow full of muck and the sweet bovine smells emanating from the barns.
We ate well in an Italian sort of way: except one evening on a local recommendation we trooped with some nice new acquaintances into the local farm fifteen minutes up the hill in a perched frozen hamlet. Serving so called traditional foods in a long list of a set menu we set about – and sat about – with great expectation. However, morsels arrived intermittently over a three hour period, with no smile or panache: and as the menu was in the local 'ladin', even the well read Cambridge scholar in our midst could not decipher the description: and the rest of us could hardly decipher the contents of each tepid arrival as the baskets and bowls were reluctantly pushed about the table – except we did agree that the seriously long cooked pork haunch had its merit amongst the farinaceous fare. So don't go to Runch Hof (it could be a new expletive for such events- "was it a runch-'off") for a speedy take away or anything better than deep fried spinach balls in a latent barley broth.
Stick to the Italian tagliatelle al forno which is superb in the family run Refugio on the other side of the valley.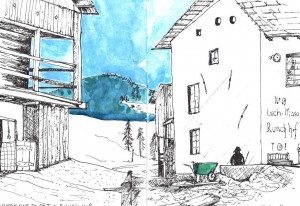 Where not to eat in Badia- pretty though -pity though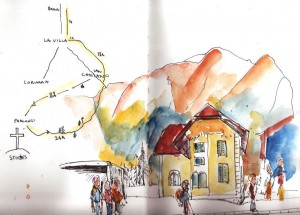 we used the precisely timed bus service in the valley to get about
If you want to winter walk in the Italian mountains and don't mind the Austrian (lunch hof) influence, the spot around Badia is exceptional, uncrowded, unspoilt –  and only an hour or so from Innsbruck. We stayed in the Hotel Melodia at Badia – recently refurbished to the minimalistic trend and it very much did the trick on comfort in a better way the adorning three stars suggest. http://www.melodiadelbosco.it/