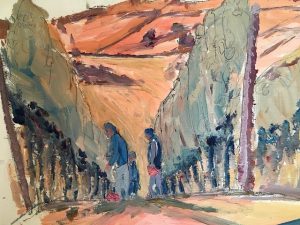 In a landscape where serried ranks of vines line the hillsides it doesn't take much to move off the beaten track and just along the unfenced yards to a point where the hedges laden with fruit drop away on the southern slope. And here is a special place to be found. But all the more joyous when the chatter of manual harvesters are not replaced by machinery. For we are on a private estate in Italy where care is paramount. And on they go and all is quiet again.
And this reminds me of a similar exercise, now an annual event, with a friend in East Devon where many kilos of sumptuous grapes, red and white are gathered in mid October with great care. And we've yet to try the wine but the very place of these grape's upbringing is calm, is unhurried and is wonderful to enjoy as we pass along the rows snipping the harvest.
And in Cotignac France my other friends could be cracking the rose from last year as their patch yields to the machines, a different vendage without apparently affecting the wine. We will need to compare. And again when the noise has gone the special sense of quietness returns -a sanctuary for sure.