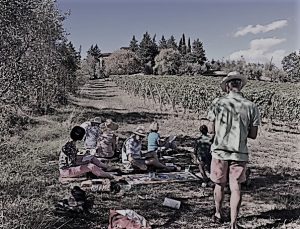 A paint with friends in the Tuscan Hills on one of those bright very warming autumn days brings an interesting dimension to the same view. Sitting in a vineyard in the shade of the olive trees along the drive to the ancient building in which we were all holed up for a few days, we concentrated on tone and shapes and nine of us produced some marvelously different results but all saying the same thing.
With discipline of just three colours per painter, quiet distant chatter from the grape-pickers, and an errant puppy bouncing its uncontrollable paws into pallets and spilling the water pots, we made a collective of work and in the changing light that is joyful, varied and deserving of a further look…….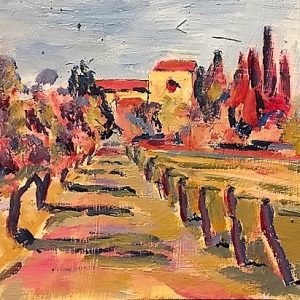 such is the culmination of working en plein air with friends who can give up the time to do it. Thank you – it was great.