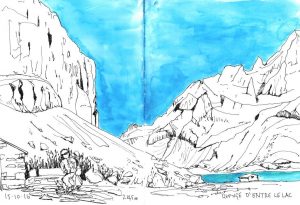 A few days in France cannot escape the traditional lunch stop – and away from the main roads and city centres the plat du jour being second of four or even five courses with white paper tablecloths and a pichet of wine is still very common. The locations are not always salubrious or pretty and non less than coming across a high French purpose built ski resort in the rain. In October void of summer bloom and well before the snows les acrs 1600 looks more like the film set for a post nuclear sci-fi: but as we pressed down the steel staircases and concrete alleyways we spied the cluster of white vans and some lights in the wet gloom of the storm. Within minutes of stripping off the layers of soaking clothes we were settled in by the host who produced his last escalopes de veau aux oignons with highly appropriate wine and all the trimmings amongst several courses of convivial lunch for the next two hours. L'arquebuse has to be visited and even in the off season and we all agreed it was one of the best lunches we had had for a while.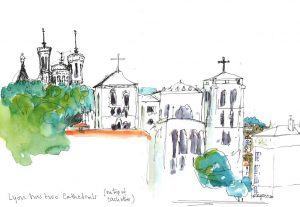 Lyon has two cathedrals- the newer one overlooks the nicer one but to make the point lunch in the well written-up  city in the lea of the Cathedrals earlier in the week was very average with no write up deserved.
Whilst an hour east and a day earlier in the Massive Central and in the tiny village of Saint Agreve there was hardly room on the thirty five seater scruffy café Fraysse in where I sat on the communal table amongst shopkeepers and gas engineers. Just scrumptious fresh food in manageable platefuls in less than hour for eleven euros fifty – what better.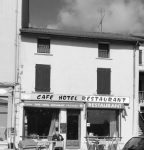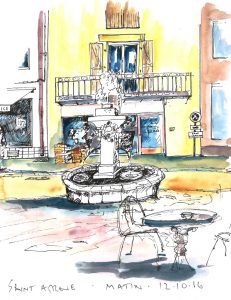 and i painted the fountain afterwards in the sun.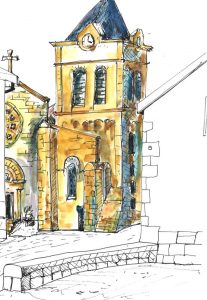 and the church the a little later.
The most unusual repas was in Tence where the house speciality of  Beatrice and Herve's  little logis hotel was 'Cevelle d'agneau en persillade' which took some acquiring of taste before realising eating well, and with enjoyment, is all about the spirit in which it is prepared, given and received – it was a joy of the best un messed up food ……
and very little to do with Michelin stars and ultra fine dining rooms- so now 'brains of lamb in parsley' have gone onto my list of the great unplanned lunches in my life.