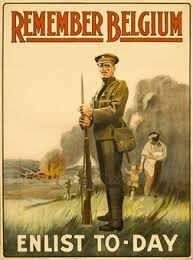 My father as a WWII soldier always used the expression "remember belgium!" not by way of direct reference to the 1915 campaign to recruit into the allied forces – see poster – which in itself was a reference to the tremendous atrocities in that country in 1914: but to emphasise that when lobbing artillery fire towards a german force from allied lines in the spring of 1945 might go a little too far and so to speak over their heads and of course land in Belgium…. and in so doing, bring back those endurances the dear folk suffered in WWI. And of course they did suffer a second time in thirty years but as you know not for long as my father with others suitably repelled made it back via Dunkirk.
We therefore enter this tiny pays with some courtesy and humility for their part in our freedom but not before we were reminded of a perhaps more far reaching account: as being the very place that only 100 years before WWI did change the course of european domination forever. As we stood at the very places Napoleon commanded his last hours before defeat at Waterloo we were ever so grateful to our hosts for the history lesson and the reality of the events by now over 200 years previous were palpable and all there to appreciate
But luckily the bombs of war barely touched Bruges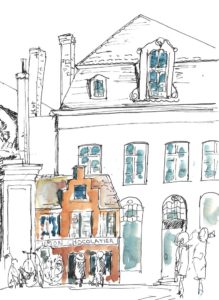 with its flowing chocolate and bridges over canal'd waterways with pretty flemish housing and institutions. We had coffee a buzzing traditional room and sometime later moules frites or freshly fired entrecote all in quantities that require significant digestion.
But we survived and so have their race: moving back from the french influences to the local flemish patois even though now all heavily sprayed with the eurospeak, the creaking corridors of power and a more metropolitan populous than my father could have ever imagined as he strove to defend in the name of peace that we all want.

we bought chocolate from this famous house dwarfed by larger ones.
the béguinage, an architectural complex which was created to house lay religious women who lived in community without taking vows or retiring from the world but promised never to marry. the twisted trees sit amid the square of these semi-monastic homes.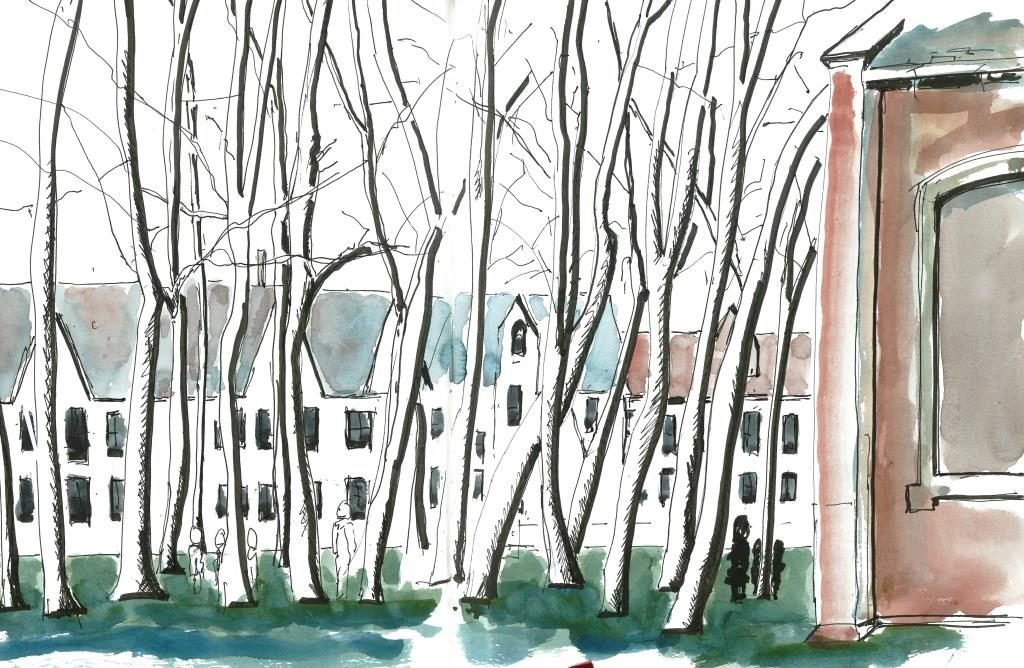 a marvellous jaunt and experience of our fairly recent past which every politician speaking on Europe should see first hand.