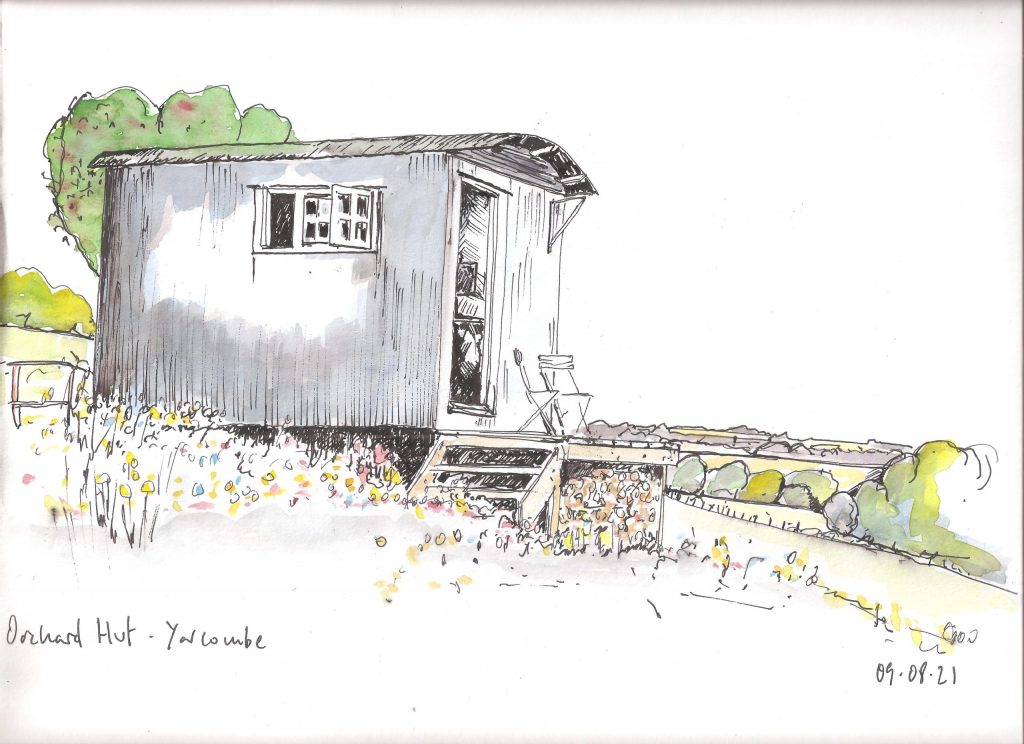 If you come to Panshayne Farm you might like to check out the latest offer of bed and breakfast in the parish – far better than our spare room.
Serena, with a tiny bit of help from the family lock-down-lurkers, has carefully crafted an authentic hut and placed it in the most enchanting spot with far southerly views over the Yarty, away from anything else other than the fruit trees, birds, and bees from their nest in the nearby oak.
Now booking: a minimum two nights, for up to two people, in the wonderfully simple room with a view. New double bed, a wood burner, and a stable door onto the larch platform makes for a lovely space to relax, read, write, or just observe. Set up the hill this is a place for all those but the infirm, or very young, as stout shoes and robust attitude are required to first find and then return to the farmhouse for the loo, the wash basin, a fridge, and the car safely parked in the yard. A gas ring for hot drinks is tucked under the hut but if you require food, this rests in Serena's amazing three course breakfast arriving in a basket at the agreed time, to be enjoyed at the hut or anywhere in the orchard. And in the evening if you wish, a steaming one pot supper. No cooking, no washing up just good gastronomy with lashings of style 'a la mode'!
Simplicity is the maxim; but there is no doubt that the authenticity of this newly constructed space, fully insulated, cosy, and light has been truly delivered and all are welcome!
Call Serena Kerr on 07841419678 to discuss your requirements if you need extra guest space this autumn or email: saudreykerr@gmail.com
You could be in for a surprise.